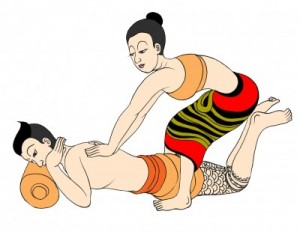 Download School Catalog (contains prices, dates, curriculum, application)
Asian Body Therapy Training & Certification Overview
KCFitnessLink is a private, post-secondary institution approved by the Kansas Board of Regents (Dept. of Education). KCFitnessLink is an assigned school with The National Certification Board for Therapeutic Massage & Bodywork (NTCMB). KCfitnesslink is privately accredited with the American Association of Drugless Practitioners (AADP).  We offer Kansas City Massage Certification leading to a diploma in Asian Bodywork in Thai massage or Zen Shiatsu.
Our Asian Bodywork therapy training and massage course encompasses traditional healing techniques from Thailand, China, India and Japan. These techniques focus on the balance of energy in the body through the use of pressure points, passive stretching, reflexology, and relaxation techniques.
We offer three options for massage certification:
The therapy focuses on opening energy pathways in the body such as the Chinese meridians, the Indian nadis and Thai sen lines. The body is viewed as being comprised of subtle energy centers, that when blocked or restricted, the person experiences mal health and disharmony in the body, mind and spirit.  While Asian body therapy may contain some elements of traditional Western massage, they are not one in the same and the intent is different. The Department of Education has a totally separate definition of ABT from massage. ABT practices such as Thai Yoga and shiatsu are not included in the definition of massage, and massage is not in any part of the definition of ABT.
Recognized forms of Asian Body Therapy defined by the Department of Education include: acupressure, AMMA® Therapy, Five Element/Japanese Shiatsu, Jin Shin Do® Anma Therapy, Thai massage, Tui Na, Qigong and Okazaki®.
Upon completion, recipients will receive an Asian Body Therapy and Massage Certificate from our massage school, which can be used towards states that requires massage and bodywork licensing. Contact your employer, state, city or county license department for more information. Our 1000 hour program will exceed most hour requirements for massage/bodywork licensing which has moved to 500-750 hours for most states. We do not guarantee licensure eligibility.
In addition to Asian Body Therapy students learn traditional Western massage and energy healing techniques.
Asian Body Therapy Training Frequently Asked Questions
What is the difference between Asian Body Therapy and Western massage?  Essentially the intent is the biggest difference in ABT and Western massage.  While Western massage has an anatomical focus with the intention of relieving local muscular tension or toxins, the intent of ABT is to open energy channels in the body which leads to physical, mental and spiritual well-being.   When energy channels are blocked, physical as well as mental and emotional tension develops. Also, ABT is done on the ground, fully clothed and uses little or no lotion/oil. It is often modified on the table.
What is the class schedule?  our class schedule is found in our school catalog.
What does an Asian Body Therapist do? Asian Body Therapists use acupressure techniques, breathing, relaxation and traditional herbal therapies to individuals develop optimal health.
Where can I work after this training? ABT Therapists work in many conventional places similar to massage therapists: hotels, spas, massage therapy studios, hospitals, wellness centers, acupuncture centers cruise ships and more.
What is the difference between Shiatsu and Thai massage? Thai Massage is practiced in two styles: Northern and Southern. Southern style uses heavy pressure and focuses on working key points. Northern style places more emphasis on Yoga-like stretching positions or interaction. It reflects the gentleness of the Northern-Thai people and the "slower pace" of their lifestyle. Both styles where influenced from yoga and eastern practice from India. The movements in Thai massage are a lot more dynamic than Shiatsu. The energy lines are given a lot of deep stretches some of which resemble yoga poses. The energy lines are also worked on in both an up and down direction. Finally, there is much less theory, as little written documentation has survived in Thailand. Many Thai therapist derive theory from Traditional Thai Medicine and Ayurveda from India.
What is the job outlook and what does a massage therapist earn? The median annual wage is $39,920. Read more.
How long will it take to complete the program? Both 650 hour programs can be completed in approximately 12-16 months. The combined program will take 18-24 months to complete.
Are continuing education units required upon certification? Yes, KCFitnessLink requires continuing education on an annual basis. Most local or state jurisdictions, as well as National Certification from NCBTMB will require continuing education.
Am I eligible for licensing as a massage therapist/bodyworker/energy healer after completing the course? Students re encouraged to understand the laws regulating massage in the areas they live in. Regulation varies from state to state. Most states require 500 hours of certification along with national certification through examination. Some state have no requirements or state-based laws including (local jurisdiction still applies). These states include: KS, OK, WY, ID, MN, VT. Visit the state-by-state overview of applicable laws.
Do I sit for a national exam in massage upon completion?  Some states require national examination and others do not.  As a graduate you are eligible to sit for national exams.  We encourage students to sit for the national exam administered by the National Certification Board for Therapeutic Massage & Bodywork or the MBLEX exam administered by the Federation of State Massage Therapy Boards.
What are typical work hours of a massage therapist? Because of the physical nature of the work and the time needed in between sessions, massage therapists typically work less than 40 hours per week. Most therapists who work 15 to 30 hours per week consider themselves to be full-time workers, because when time for travel, for setting up equipment, and for completing business functions, such as billing, are added, a massage therapist's hours per week may very well be more than 40 hours.
What course materials are used?  Visit our online bookstore for course materials.
 Asian Body Therapy Training Links: