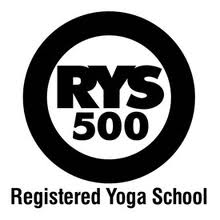 KCFitnesslink is a registered Yoga School (RYS) with the Yoga Alliance offering yoga teacher training certification, yoga therapy teacher training certification and Ayurveda certification training.  We offer entry programs in Hatha, Vinyasa and Power Yoga from 200 hours to a full 1500 hour Yoga Therapist/Holistic Health Practitioner program.  Being a Registered Yoga School acknowledges that the our training program meets standards for curriculum developed by Yoga Alliance and that training is conducted by qualified instructors.  KCFitnessLink is licensed to operate by the Kansas Board of Regents (Kansas Dept. of Education).  KCFitnessLink is a yoag therapy charter school with the International Association of Yoga Therapists (IAYT).
Our catalog contains information about costs, faculty, scholarships and grants, the full dates and academic calendar as well as program requirements and books used.
Our Yoga Teacher Training Certification Approach and Philosophy:
Yoga Teacher Training Certification Delivery Options:
We offer the training in two live formats , one online format and one hybrid format.
Yoga Teacher Training Certification Program Options:
Yoga Teacher Training Certification Links