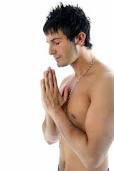 Explore your ability to touch and surrender for inner healing

Learn mindful breathing techniques




Get techniques from working, professional therapists



Bring a pillow, lotion, blanket and flat sheet. You can partner with someone in class or bring a partner to the class.This class teaches you how to give a massage draws techniques from eastern floor massage and western massage. Read more about out signature 
Sacred Flow massage therapy techniques for men.
Class cost per: $45
December 19, 2017, 6:30-9:30 p.m. 

At KCFitnessLink inside City of Fountains Fitness at 541 D Central Ave, KCKC 66101
Frequently Asked Questions
Is a partner required to attend class? No. You can partner with anyone in class. Most people come alone without a partner. This class is taught au naturel like our Men's Freedom Yoga class.
Do I need a lot of yoga experience to participate? No. The partner yoga is much different than a traditional yoga class. This yoga emphasizes a yoga of connection versus a yoga that moves towards maximum edges in strength, flexibility, etc. If you feel more comfortable, you can attend a Freedom Yoga session only or request private tantra yoga session or private massage.
What types of things do you do? At its simplest level, half of the class is a mini course in massage. We teach you through demonstration and verbal cues how to massage using a variety of eastern and western techniques from Swedish, Thai massage, Esalen, acupressure, deep tissue and more. Each session focuses on different regions of the body as a focus. We encourage 10-15 min. of intuitive massage where you simply work in an unguided manner. If you feel more comfortable, you can request an individual massage to see our approach and style.