Experience services in Kansas City designed for men by men, from soothing massage to fat burning boot camp classes.
No longer do you have to be the only male in yoga class. Come explore our classes designed with men in mind. Gain flexibility, build strength, reduce stress and even enhance your sex life.
 Intro rates: New member seven class pass $50
Experience massage like no other! From sensual Esalen to muscle relieving deept tissue, this massage combines the best of several modalities to leave you relaxed and calm.
 Intro rates:  $50 for 60 min.   or $85 for 90 min. (incall rates only)
 Men's Sacred Touch Partner Yoga and Massage Group Workshop
Experience one hour of breathing and yoga followed by two hours of mutual massage in a supportive, safe environment. One Thursday per month 6:30-9:30 p.m.
$45
Tantric Touch Self-Massage & Yoga Private Session 
Experience yoga and guided self massage for renewal, energy opening and stress release.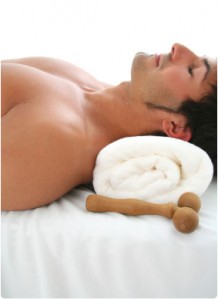 Take your workouts to levels! This workout is great for beginners or serious athletes! The best thing is that the workout changes each week which helps you body to continue cycles of gains in strength,  endurance and cardiovascular conditioning.  Intro rates: $50 monthly unlimited
Let us help you get in shape, lose weight and feel healthy. Our science-based approach will get you results fast.