About Yoga Month
Kansas City residents and businesses can attend free yoga classes, workshops and more during Yoga Month 2013.   Yoga Month is a grassroots, community-based global campaign to educate people about the health benefits of yoga and to inspire a healthy lifestyle.
The activities are open to all ages and fitness levels.   People interested in attending classes and workshops can register online for a free 7-day unlimited class pass (valid September 3-30,2013) to classes.
Businesses can also request free yoga classes or lunch and learns about the benefits of yoga and physical activity during the month.  To attend any free classes print the free class passes below and take to the session.  To register for the The free class passes are valid for any class on the schedule, including yoga.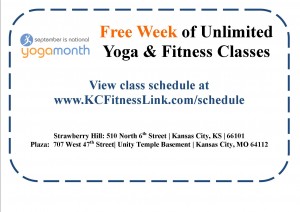 Kansas City Yoga Month Event Calendar
Holistic Health Career Fair, Free (Register)
Learn what it takes to become a nationally certified yoga and meditation teacher.
Sept. 7, 1:00-2:30 p.m. at KCFitnessLink Strawberry Hill
Fitness Day at the Nelson Atkins Art Museum, Free (Register)
Come join us for three hours of fitness. Try one, two or all three classes including bootcamp, yoga and Nia.  8:00-11:00 a.m.  (Bootcamp 8:00-9:00, Yoga 9:00-10:00, Nia 10-11:00)
Sept. 9 & 28 at the Nelson Art Musuem South Lawn, 4525 Oak St  Kansas City, MO 64111
Find Your W.A.Y. (Wine, Art, Yoga) to Strawberry Hill Second Friday, Free (Register)  Download Event Flier

Come unwind with a relaxing yoga class, followed by wine tasting and art from Sandy Woodson and Chad Alexander.
September 13, 5:30-8:00 p.m. at KCFitnessLink Strawberry Hill
Ayurvedic Yoga & Self-Massage, $20 (Register)
Learn practical self-care techniques from Ayurvedic breathing, yogic movement and self-massage with therapeutic-grade essential oils from dōTERRA for balance and relaxation.
Sept. 21, 1:30-3:00 p.m. at KCFitnessLink Strawberry Hill
Sept. 28, 2:00-3:30 p.m. at Yoga Patch, 7108 Wornall Rd.,  Kansas City, MO 64114
Urban Yoga Triathlon at Mill Creek Park, Free (Register)
Explore you inner athlete!   Join us for running (or walking/jogging), boot camp exercises, and finish with a complete, mind-body, balancing yoga practice.
Sept. 22, 11:00-12:30 p.m. at Mill Creek Park, 4600 JC Nichols Parkway Kansas City, MO 64112.
TRX Yoga Body Blast, Free (Register)
Explore aerial yoga, suspension strength and cardiovascular training all rolled into one.
September 29, 11:00-12:30 at KCFitnessLink Strawberry Hill