The word "Tantric" is widely misunderstood in the West.  The word tantra  literally means "expansion." Tantra yoga is one of the six branches of yoga that  concentrates on expanding all levels of one's consciousness by transforming
personal limitations and releasing subconscious barriers.  Tantra yoga is not concerned with sexuality; rather, it focuses on the creative  force and transmitting energy into higher channels. The purpose of tantra yoga  is to awaken and harmonize the male and female aspects within each person.
What is the KCFITNESSLINK model of tantra yoga?

Safe space for exploration of higher states




R

espectful, supportive, friendly 

and non-sexual atmosphere




Practice 

open

 to sensations and feeling




Experience without expectations




Way to deepen the senses and overall yoga practice




Improve social connections, acceptance and image




Personalized and accessible for all




Expansion of ideas and self




Is this a sexual experience?
No. While touch may occur between partner poses (if any), if one even chooses to do partner poses, the intent is not sexual. We create a safe environment for all and will not tolerate sexually charged behavior or unsolicited touching. Like
traditional yoga, one can expect the teacher to touch students to provide hands on body alignment adjustments.
What if I feel sexual energy?
As a result of practicing we feel all types of energy and emotions. Feeling sexual is no different.  This class focuses on integrating and channeling sexual energy into practice for a greater purpose.  There is no judgment for
feeling a certain way.
What do you mean when you refer to energy?
According to ancient practice, chakras are vital energy centers in the body.  Ultimately, they affect our physical, mental and spiritual well-being.  Refer to the diagram for the seven chakras in the body.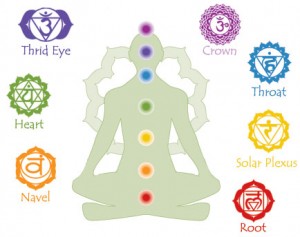 Why do you practice naked?
Practicing naked isn't  better than practicing clothed—it's a different experience, and people have different reasons for doing it. Taking off our clothes—consciously and literally—is a way to create sacred space free of barriers that can be intimate and healing. 

Do I need to be flexible to participate?
No, this is a common myth. One of the benefits of practice is a gradual increase in range of motion and flexibility over time.
Is tantra the only kind of yoga included in this practice?
Classes include a mix of yoga styles. Most of the instruction is drawn from traditional Hatha poses, held or done in flowing powerful style. It also includes breathing practices from the Tantric and Kundalini traditions, as well as
power yoga and various other exercises designed to help us connect with ourselves and each other.
What is the class schedule?
Classes are held:
Monday evening                8:30-9:30 p.m.




Wednesday evening         8:30-9:30 p.m.




Saturday morning             11:30-12:30 p.m.



Who comes to class?
The classes are open to anyone regardless of age (21+), race, class sexual orientation and fitness level.
Must I take off all my clothing?
Yes, everyone including the instructor is naked. Most people are surprised by how quickly they get over any anxiety they might have about being naked. If you are not ready to be naked with a group, you might try an individual or partner
session first before attempting the class format.
How can I prepare for class?

B

ring 

a yoga mat and a large towel. Refrain from 

large 

meals prior to


the session.




Shower




Plan to arrive 

5-10 

minutes early




Is my participation Tantra Yoga confidential?
Yes. Your participation with any fitness program with KCFITNESSLINK is confidential. All information collected from you is for our use only. We will not share your information without your consent.
I'm not ready for naked yoga. What are other yoga or mind body options with KCFITNESSLINK? View the class schedule.
We offer:


Are there other naked yoga groups in the U.S.?
Yes, a comprehensive list can be found here.